Description
| | |
| --- | --- |
| Material | Stainless Steel |
| Finishing | Induction Hardened |
| Color | Black |
| Usage/Application | Tractor, Rotavator, Happy seeder, Thresher, Agriculture |
| Type | Shaft |
| Function | Power Transmission |
| Pack Type | Box |
| Grade | EN8 |
Replacement PTO Shaft for 4′, 5′ and 6′ Land Pride, Bush Hog, Tarter, Behlen Rotary Tiller
This series 4 PTO shaft operates in a rotational motion, with a PTO horsepower of 35 at 540 RPM and a horsepower of 54 at 1000 RPM. There is dual a tractor end and an implement end that both have female ends measuring 1-3/8 in., with 6 splines. This PTO shaft has a retracted end measuring 43 inches and an extended end measuring 58.4 inches. The clutch is made to slip when the torque is too great for the implement, and works to help protect the gear box. Safety chains are included, and as a safety precaution, be sure to shield any rotating parts and do not wear loose accessories, which could become entangled and pulled into the machine.
Specifications
PTO Shaft
Series 4
Extended length: 58.4 in.
Retracted length: 43 in.
Tractor End: 1-3/8 in. 6 spline, female
Implement end: 1-3/8 in. 6 spline, female
Slip clutch: 8 hub bolt assembly, 1-3/8 inch 6 spline female end
Safety chains included
35 HP at 540 RPM
54 HP at 1000 RPM
Series 4 cross kit compatibility: 27 mm diameter x 74.6 mm width
Shield all rotating parts for safety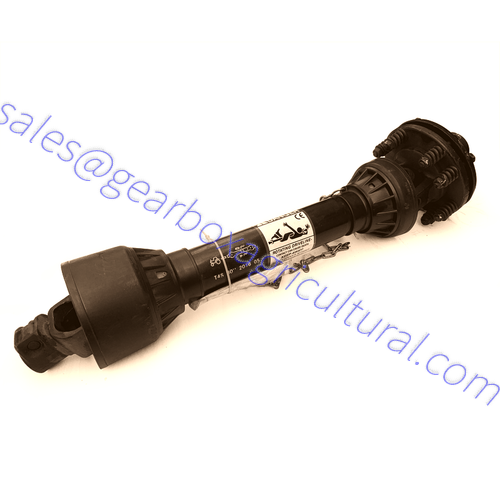 As one of the leading agricultural gearbox manufacturers, mechanical product suppliers and exporters, we supply agricultural gearbox and many other products for cluster agricultural gearbox. agricultural gearbox, agricultural gearbox Manufacturer, agricultural gearbox Supplier, agricultural gearbox Exporter, agricultural gearbox Seller, agricultural gearbox Made In China, Wholesale agricultural gearbox, Buy agricultural gearbox, Customize agricultural gearbox – Find agricultural gearbox Manufacturers and Suppliers. Choose from quality agricultural gearbox manufacturers, suppliers and exporters on agricultural-gear-boxes.com.